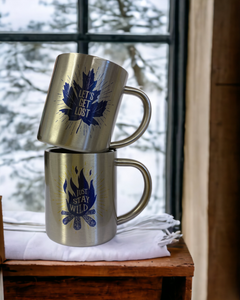 This 8oz Stainless Steel mug is both sturdy and shiny, making it perfect for your adventures. Super light and slightly smaller than the Standard Enamel Mugs, it will be an ideal companion for those who prefer their coffee strong, short and black. With the option to customise, either check out the Personalised section of the shop or contact me directly for more details. Compliment your Stainless Steel Camping Mug with matching 12oz or 17oz Stainless Steel Tumblers.
- 3.5" W X 3.5" H- 8 OZ / 300 ML
Care Instructions: Handwash with warm soapy water. Dishwashing can cause image degradation. Not suitable for microwaves.
Note: Colour may vary due to screen & monitor settings.