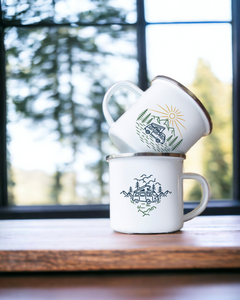 Our hand-printed enamel mugs make the perfect companion for a wilderness trip or a coffeehouse visit. With their durability, they're great for kids too - just ask my nephew!
This is set of two enamel camping mugs as pictured, it measures 3.5" W X 3.5" H and has a 12 OZ / 340 ML capacity and has an aluminium rim to stop you burning your mouth. Enamelware can chip as the surface of the mug is covered with a layer of porcelain but is still safe to drink from. This set comes wrapped in a box perfect for gifting. Don't forget to add a note at checkout if you would like to send it straight to the recipient and we'll get our best handwriting on a card and pop it in there for you. 
Colours may vary depending on monitor settings.