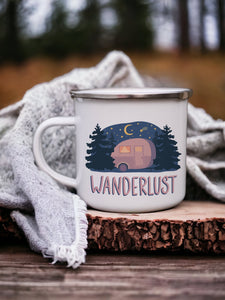 Throw out the map get lost and pick up one of our hand printed enamel mugs, the perfect companion to your next trip to the mountains (or to your corner coffee shop). These mugs are the must have accessory for anyone who loves the outdoors or anyone wanting to add a retro feel to their home. They're also great for kids as they're pretty durable & can be thrown across your floor without much damage, just ask my nephew!

- 3.5" W X 3.5" H
- 12 OZ / 340 ML
- Our Enamel Mugs come with a silver aluminium rim on them to stop you burning your mouth on hot liquids.
- Campfire & Stovetop safe

Care Instructions: Wash by hand in warm soapy water. Dishwashing can degrade the image. Not suitable for use in a microwave.

Please note: Due to the nature of enamel mugs you may find slight imperfections with the finish, with minor lumps, bumps or even an odd blemish. This is a characteristic of an enamel finished product, and these add to the charm of a perfect enamel mug. You can get a slight faded edge to the printing on full wrap printed mugs, this occurs just under the rim and near the handle where the press isn't as tight. This effect is minimal and only noticeable on prints that wrap all the way around the mugs.
Enamelware does tend to chip, but it will never break. Since the heavy-gauge steel beneath the outer porcelain layer naturally oxidizes, these enamel mugs are still safe to use after chipping. Plus, the chips add character.
Due to screen & monitor settings colours may vary.