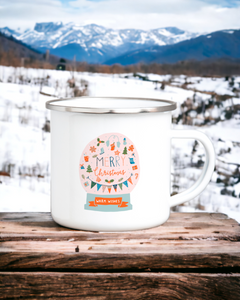 Are you ready to hit the slopes this Christmas?

- 3.5" W X 3.5" H - 12 Oz / 340 ML
- Campfire & Stovetop approved
Our Enamel Camping mugs come with a silver aluminium rim to save your burning your mouth.
Care Instructions: Gently wash in lukewarm, soapy water, dishwashing can degrade the image. Not suitable for use in a microwave. Due to the character of enamelware, minor bumps, lumps, and occasional spots may show up. This is normal, and makes it perfect with its imperfections. Enamel can  chip, but never break! The steel ayer beneath the external enamel will still keep it safe. Plus, those chips give it personality!
Due to screen settings, colors may differ.